This interview was published on the website of the World Justice Project.
Nóra Al Haider is an interdisciplinary legal (LL.B & LL.M) researcher based in Amsterdam, the Netherlands. Her work combines the fields of law, tech, data science, and design to find efficient and human-centered solutions for complex problems. In her recent design installation, What is law? (Baby don't hurt me), Nóra visualized WJP Rule of Law Index data in an interactive exhibit to shed light on justice systems around the world. Learn more in our Q&A with Nóra below, and read more about her work at noraalhaider.com. 
How did you become passionate about combining law, tech, and design? How do you see these various disciplines intersecting and solving problems?
I have been designing and creating as long as I can remember. During law school I incorporated my interests in design and coding in my legal research projects. I have found that interdisciplinary research creates room for a more innovative and creative approach to tackle complex problems.
Currently, I'm interested in combining the fields of law, tech, and design to create more user-friendly, accessible and effective legal systems. Although these fields seem unrelated they have more in common than you would think. Design provides a more human-centered perspective and methodology that can be applied to make the legal system more user-friendly. Tech can sometimes provide tools to translate this into reality.
The recent exhibition of your work, What is law? (Baby don't hurt me), at Acud Studio in Berlin showcased an interactive design installation visualizing WJP Rule of Law Index data. Can you share what sparked your interest in bringing our Index data to life, and your inspiration for the project design?
It is difficult to pinpoint one specific source for inspiration. In my experience, you're always influenced and get inspired by different things in your life. An inspiring piece of art, an interesting dataset, a random quote that you see somewhere. All these fragments are floating around in your head ready to be mixed together when the time comes to create a new project. That was the case for this particular design installation as well.
I knew that I wanted to use the rule of law as the theme for this design installation, for the simple reason that this is an academic topic that I find really interesting. I also knew beforehand that the exhibition would mostly attract non-legal scholars. This really interested me as the rule of law is a topic that concerns everyone, but is only understood by a small fraction of society. I wanted to find a way to explain and let the general audience reflect on these concepts. Therefore, I had to come up with a way to explain the rule of law in an accessible way.
I immediately thought of the Rule of Law Index as I have been following the work of the WJP for a while. What I find interesting about the Index is that it includes measurements on how households experience rule of law. I have always been really interested in how people perceive the justice system. The WJP provides insight into that topic. I also knew that it would be more relatable for the general audience to hear how regular people experience rule of law rather than hearing a legal scholar's definition.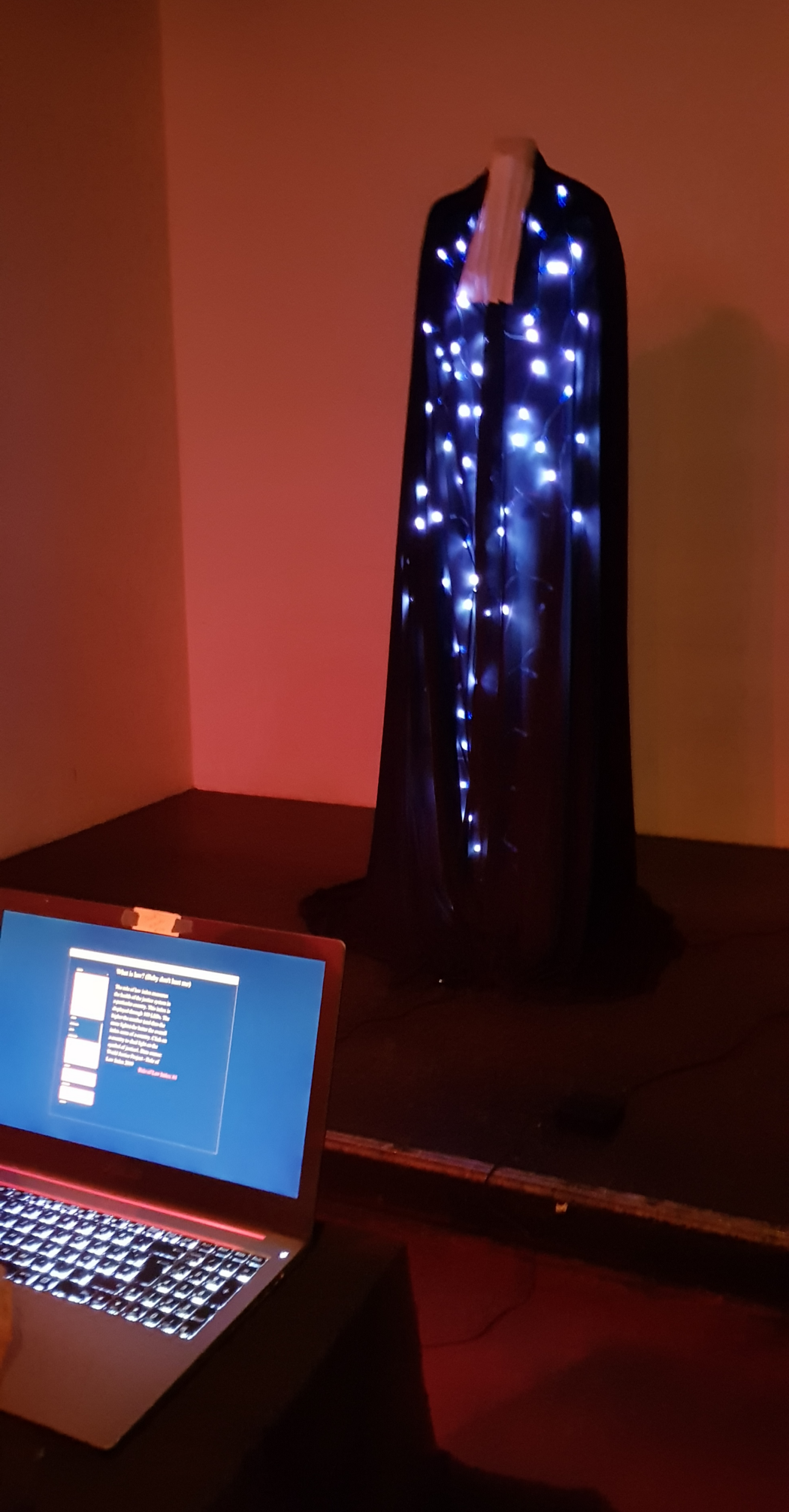 What do you see as the value of interactive design visualization of legal data tailored for a general audience, as opposed to experts and legal professionals?
Law affects us all, not just experts and legal professionals. It is just as important for the general audience to have a basic understanding of important legal concepts as it affects their daily lives. Interactive design visualizations can let the general audience interact with the data in a more accessible and understandable way. The interactive aspect creates a conversation between the design installation and the audience. Conversations are less forgettable than static images. Just think about how often you remember a conversation on a complex topic as opposed to a written article. In this case, it is more memorable to interact with the data than just looking at the numbers on a screen. It also creates an opportunity for the general audience to reflect on the interaction.
In your Medium piece about the project, you describe the rule of law as "the essence of a justice system." As you conceptualized this artwork, how did this idea of the daily effects of justice systems on everyday people guide you to the final installation product?
I knew from the start that the audience would not consist of legal professionals and scholars. Therefore, the symbols that I used in my installation had to be common enough to be immediately recognizable by non-legal scholars. That's why I picked a court robe as the canvas for my design installation and a court case book that could store the feedback notes of the audience. Even if the general audience did not have direct experience with the legal system, the symbols were recognizable enough from movies and books. Using common legal symbols made it easier for me to explain the complex concept of rule of law. Besides these symbols, it was also important to use plain language to explain what rule of law is. That's why I used the phrase "health of the justice system of a country" to explain what the Rule of Law Index measures. This phrase made more sense to the general audience as the word health immediately evokes imagery of similar measurements.
What kind of reactions did you observe from the audience experiencing the installation, and what do you think we can learn from those reactions?
People were shocked and amazed to see how the Index of different countries compared to each other. I was really pleased to see how curious people were about looking up other countries than their own. The design installation made the Index and the concept of rule of law come to life. The audience was really curious to learn more about the rule of law and also the methodology behind the Index.
What's next for this project, and for your work in general?
I hope to showcase this design installation at other locations, such as: courts, organizations, and law firms. In the future I'll continue developing projects on the intersection of law, design, data, and tech. You can keep track of my work over at my portfolio on noraalhaider.com or follow me on Twitter @noraalhaider.
---